495 Garage Door, Inc. is a local, family owned garage door installation and repair service. 495 Garage Door, Inc. understands the needs and challenges of home and business owners who frequently use their garage doors. As such, the company is committed to meeting the needs of each and every one of its customers and providing the attention and level of care needed to provide a remarkable garage door experience. Being conveniently located in Silver Springs, Maryland means 495 Garage Door can meet the needs of nearby customers including those in the Washington, DC metro area. As a leading service provider of garage door repair in Silver Spring, 495 Garage Door, Inc. is equipped to handle any garage door concern, whether small or large. The company specializes in the following services:
Installation services, including parts installation
Garage door opener installation and repair
Garage door spring repair
Garage door panel repair
Garage door cable repair
Garage door track repair
Garage door opener remotes
Emergency garage door repair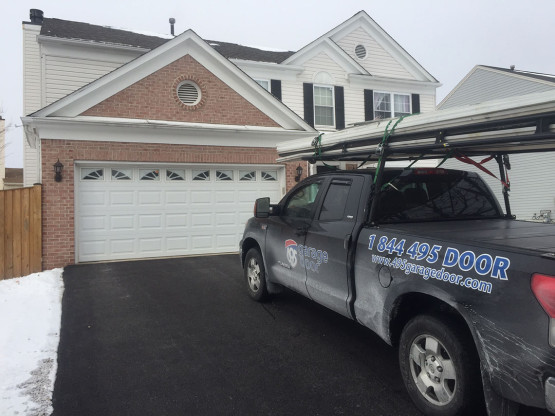 The 495 Garage Door Commitment
495 Garage Door is committed to providing garage door repair in Silver Spring that meets the individual needs of its customers. Customers residing in the Washington, D.C. metro area have the benefit of having access to a trusted service provider with years of industry experience and knowledge. The company's success can be directly attributed to its core commitment to prioritizing the needs of customers, listening to their concerns and then delivering a promise of customer satisfaction for each and every project. The company is highly committed to treating each customer with professionalism and respect. As a result, 495 Garage Door has had a steady stream of happy, returning customers who even refer the company to their friends, family and neighbors. There is no greater compliment than repeat business and referrals! 495 Garage Door is a trusted name in the garage door installation and repair industry. Whether the project entails fixing an unresponsive garage door opener or installing a brand new door, 495 Garage Door can be trusted with the task of completing the project with high standards, from beginning to end.
The 495 Garage Door Difference
495 Garage Door specializes in various aspects of garage door installations and repair. When customers contact the company, they will get a prompt and pleasant response. When requesting estimates, customers can expect to obtain transparent quotes that are free of hidden fees and unexpected costs. Each technician is fully trained and certified to handle any garage door repair or installation project. The knowledgeable technicians will perform quality workmanship and will make sure the repair or installation process goes as smoothly as possible. They will take the home's safety into account and will make sure the garage door is fully functional and secure after the install is completed. The technicians will communicate with the customer every step of the way, making sure the customer remains comfortable and confident in their capabilities. This is the 495 Garage Door difference—a quality service that restores peace of mind.
The goal of 495 Garage Door, Inc. is to keep the customer completely satisfied. The company offers top-of-the line products and services and works with honesty and integrity. Every client is important and 495 Garage Door, Inc. is proud to be an industry leader for garage door repair in Silver Spring, offering services to Washington, D.C. metro area customers as well. If you need a local garage door repair company and you live in Silver Spring contact 495 Garage Door, Inc. and speak to a friendly representative who will provide a fair and competitive price quote.