Living room design trends for 2018 are about one word: drama. No other word says it better than this one simple concept. As more people insist on expressing themselves in everything they do—their homes, their lives, their careers, their social media presence—no other idea better sums up the entire theme of 2018's living room design trends. And it's that sense of the dramatic that takes center stage with each and every one of the year's trends when it comes to designing the most livable of all living spaces. If you ask interior designers what's hot this year, they'll use words like impressive, vivid, powerful, breathtaking—all synonyms of the dramatic that's showing up in modern living room design trends, for this year and likely well into next. From art that's expressive, to gold that strikes a chord, to black that's anything but basic—these are the fun, whimsical, emotional, and dynamic trends that are making 2018's living rooms a thing of beauty, excitement, and influence.
Art gallery
The old (and frankly, rather stale) idea of tacking a painting up over the sofa has more than run its course. Today, people want so much more out of art than an 'over-the-sofa painting.' And modern living room design trends have it. For a distinctive change that will not only delight you, your family, and your guests, but it will also undoubtedly turn into the conversation go-to, try adding into your living room an entire art gallery. Choose paintings of all different sizes that go together, or for something really fresh, go for the eclectic look and just purchase what you like. For added texture to your living room, consider building in some shelves or 'art ledges,' where you'll be able to display your art. Head to garage sales, flea markets, and estate sales to locate special art finds that will turn your living room into its own world of art and beauty.
All that glitters
The word for the year is glamour—and no other style for the living room will add more glam to your living room than gold. Gold stands for luxury, and the good news about gold is, even if your budget has none of it, your living room can still be a gold mine. Try it throughout in accents and small details, or go big and purchase a gold sofa that will go with nearly any other color you choose. Another great way to add golden glamour to your living room is with a gold or even gold-and-silver chandelier. Done right, gold will add elegance, style, and drama to your living room.
Back in black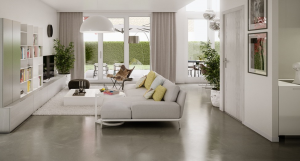 There isn't any other room of the house that can accept black more successfully, dramatically, or even pleasantly than the living room. Black adds class, elegance, and rich style—if it's done right. Consider painting one wall of your living room black. But be careful—if you choose the wrong wall, you could end up making a narrow room look narrower. If you're not into doing any painting right now, consider black accents throughout your living room, such as black or even deep brown or charcoal curtains, black rug, black end tables, and/or black lamps. The fabulous thing about black is that it can be paired with every other color there is. If you're not confident in your own design skills, consult with an interior designer near you for creative ideas on how to use it wisely throughout your living room's space.
They don't call it the 'living room' for nothing. It's the room most of us spend a huge amount of our lives in. We gather with our families here. We relax after a hard day at work. We watch a favorite show or sporting event. We laugh, cry, talk, eat, discuss, and just generally exist within its four walls. And the year's modern living room design trends are certainly capable of making those four walls—and all of their contents—beautiful, elegant, exciting, subdued, whatever you want them to be. And those trends are doing it in the most dramatic way available the design world has offered in years. If you're looking for further inspiration about designing your modern living room space, consult with an interior designer near you today.