A very old proverb states that "beauty is in the eye of the beholder", in applying that proverb to a home's exterior design, when two people look at the same house, they may each perceive it very differently.  Some prospective home buyers look strictly for curb appeal – they want their home to stand out from the rest, while other homeowners are more concerned how the interior of the home looks.  If you are looking to remodel the exterior of your home you should contact a top exterior remodeling contractor for help with these questions.
According to realtors, potential home buyers make a "street decision" in less than 12 seconds as to whether or not to view a home.  Thus, creating curb appeal is important whether the house is being put on the market, or you just want to make it look good.  Another factoid is that according to a Harris Interactive study, 78 percent of all potential home buyers say a home's exterior look is either "extremely" or "very" important.
The Best of The Bunch
Sometimes it is good to stand out in a crowd; who wants to be part of a blah row of houses that all look the same – why not try to be just a little different from the rest of your neighbors? Maybe something subtle, or, at any rate aesthetically pleasing and sure to give your home the ultimate curb appeal.
Let's take a look at the trends in exterior design and see what appeals to you, the homeowner.  Bear in mind, however, that what works for some homes won't always work for yours, both architecturally and aesthetically.
Design Trends In 2018
Any product or idea that keeps the house looking good but is low maintenance like: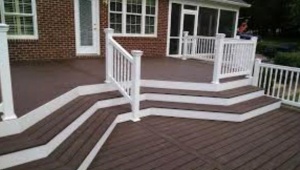 Using low-maintenance products – Of course homeowners want their house to look good, but, not to the extent that they must spend endless hours and dollars keeping the house looking up to par. Years ago, a different generation took great pride in their home and thought nothing of forsaking weekends or precious vacation time in maintenance … a fresh paint job and a manicured lawn and garden.  But, these are different times now – work often morphs into our down time, so much so, that home maintenance tasks must be kept at a minimum to not hog our precious leisure time.  A good example is the use of cement fiber siding and fiberglass doors and/or windows, all which are valued for their durability and low maintenance, as opposed to their vinyl counterparts.
Easy-breezy landscaping – You need to find a happy medium and that means having a nicely landscaped home, but eschewing the time-consuming effort of maintaining the grounds and gardens that go along with it. You don't need a gardener or caretaker for your property, just a simpler routine.  Thus, some builders are creating neighborhoods in a prime location, but with smaller lots, and then marketing them as "low-maintenance landscaping".
A more-natural look to the façade of the house – Natural stone and brick is the trend, not only for the aesthetically pleasing, but more-elegant look for the home. While it is a trend mostly for larger homes, natural stone and brick can also be combined with other materials for a wainscoting effect.  The brick and stone are, as stated above, very popular, but not just for the look, but less maintenance as well.
Composite decking takes R&R to new heights – Gone are the days of natural wood for backyard decks. Today's composite or wood-look decking looks realistic and requires minimal maintenance.  Just scrub down that composite deck with a bucket of soapy water and a hard-bristled brush once a year.  A new composite deck (like the popular favorite Trex brand) may be pricier than a natural wood deck, but, consider this … within five years; the composite deck has paid for that gap amount ($4,000.00 to $5,000.00 depending on the deck size).  You won't be spending money, or your time, on the products or machinery needed to annually power wash and re-stain the deck to maintain the wood.  No more loose or warped boards to replace or wayward nails to repair – and no splinters!  In fact, many people who have existing natural wood decks with good structural support are simply "doing a re-deck" or using the support structure, but replacing the surface with composite wood.  These composite wood decks are guaranteed to last 25+ years.  Look at all the time you'll save too – time to yourself to lounge around soaking up the sun in those precious few warm-weather months.
Elegant Looks Are Trendy
Large foyers – An enlarged vestibule to the home is becoming a popular item as homeowners gravitate toward the look of a grand entrance, complete with the look of double doors.  But double doors are not for every architectural style, so smaller and moderate-sized homes can opt for a wooden entry door and keep it just as classy and elegant looking.  A new or elegant door is one of the quickest ways to add curb appeal to your home, and, the trend is definitely toward warm, natural woods instead of a painted look, and Mahogany is the style of choice.
Transom windows – Builders are choosing small luxury touches to lure buyers to their line of homes.  Transom windows, the row of additional windows placed above large windows or a door, are an elegant way to complement any home, and part of the trend for homes to have larger and more open windows which permit the natural light to shine in.  Interior window treatments have evolved through the years with various types of shades replacing the traditional blinds or curtains/drapes, but allowing natural sunlight to filter into the home is a newish trend stemming, in part, from people anxious to get away from the boxed-in setting of offices and into a more-natural setting, and everyone knows the benefit of light on a person's psyche, especially in the long Winter months.
Going green – This statement is a mantra for many, and, with the plan to help sustain Mother Earth in their minds, homeowners are looking for their homes to reflect their beliefs.  Thus, a trend for 2018 is toward more and more builders using sustainable materials in their homes.  So, look for windows, siding and gutters all made from recycled materials.
There are always improvements to be made to an existing home to maintain that curb appeal, including such items like using paver bricks for walkways or driveways and patio enhancements, or even making leisure-time upgrades such as a deck or a pool.
So, peruse those decorating sites if you will, then contact an exterior remodeling contractor, to gain some insight on which of these trending 2018 designs can help give your home the wow factor.