The garage door to your home is just as much a showpiece as the architectural style of the home itself.  There once was a time when a one-car garage was a rather nondescript and box-like building tucked in the back of the house.  It was used to protect the car from the elements, and, also to store equipment used for house maintenance, such as ladders and the lawn mower.  These days, a garage holds more than just a single lawn mower, but all the popular electric or gas-powered yard work gizmos, a snow blower, power tools and the family's sports gear.  If you're lucky, you have a lot of extra space, and can have cabinets or shelving units to keep that garage neat as a pin, and everything within reach, without having to scramble around looking for it.  A one and one-half car garage makes it easier to slip inside your vehicle with ease and still be able to accommodate all the items listed above.
A garage is especially appreciated in a four-season state like Maryland.  How wonderful to walk out to the garage on a cold and snowy morning and just back the car out, and not worry about scraping off layers of ice, or brooming off several inches of snow.
The floor plans for most residential dwellings now factor in a garage, and most of them are attached.  The beauty of an attached garage with a passageway from the garage to the home, is that it may be used as the primary access door to the home, instead of the front and/or side or rear entrances, thus permitting a safer access for the homeowner, i.e. being distracted by fumbling for the house keys while juggling bags or packages thus making you a prime target for a thief.  Now, the garage door shuts after the homeowner enters the garage in their vehicle, thus barring any would-be intruders, since an automatic garage door opener is in place.
Today's Garage Door
You may laugh at this statement, but, back in the day, garage door manufacturers had one style – it was a pull-up type of door, which swung out, and you had to manually open and close the door.  But the types of garage doors have grown in leaps and bounds through the years, thus affording a wider variety of residential door types, styles and embellishments, all guaranteed to mesh perfectly with the architectural style of the home.   The prices are not formidable, but instead are reasonably priced, and guaranteed to enhance the façade of your home remarkably.   For example, once garage door manufacturers teamed up with architects to increase the curb appeal of a home's garage, the wooden carriage-style doors began to increase in popularity.  But this type of door, much prized for its look, might not work for every type of home, so there are a wide variety of other options available.
Styles of Garage Doors
Once upon a time, there was one type of door and it was the pull-up variety which was operated manually.  Now, there are a variety of residential garage door types available to the homeowner, including:  sliding, folding, up-and-over and roll-up.
The Most Popular Garage Door
The most-popular style, by far, is what is termed a "sectional door", which consists of several horizontal panels, which are hinged together and fitted with rollers.  This assembly of panels and rollers rides in two parallel tracks.  A heavy-duty torsion spring that is wrapped around a torsion bar, serves to counterbalance the weight of the door.  Thus, the homeowner may choose between having the ability to open the door manually, or, operate it by using a motorized garage opener.  The actual lifting of the garage door may be chain-, belt-, screw- or direct-driven.
Now that you're familiar with how the sectional door operates, let's look at the various styles and options available in sectional doors.  Sectional doors are available with or without windows in shapes such as square, rectangular and even arched.  The popular carriage house style is trending, with their swing-style door look, but they operate on the same principle as sectional doors, and, they are somewhat unique since a true carriage or swing-style garage door resembles a pair of very big French doors.
A traditional, carriage-style garage door is made of wood and hangs from jambs on hinges.  While it is a great enhancement for your home as strong vertical lines will integrate the garage with the rest of the home, swinging doors tend to be more energy-efficient, since they have only one joint, and seal well at the header and side jambs, so there are less drafts – good for the cold Winter months.  But, the drawback is that swinging doors need much more clearance in the driveway.  For example, you must park further back or you won't be able to open the doors to drive in the car.  As a general rule, carriage-style garage doors must be manually operated; there is an option to automate them, but it is expensive.
Garage Door Materials
There are many types of garage door materials available, among them steel, aluminum, wood, wood composites, fiberglass, vinyl or glass.  Wooden doors are still the most-popular look for the garage door, with steel being considered the most-durable garage door material.
Wood and Wood Composite Garage Doors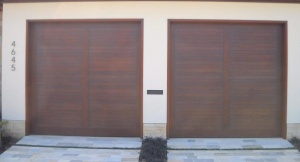 Wooden garage doors provide an elegant look to your home. Most wooden doors are fashioned from cedar, redwood and fir, and may be factory-stained or painted, or may be finished on site.  They are built with layers (a/k/a "plies") to prevent the wood from warping.
Wood composite garage doors are constructed on a wood frame that is covered with sheets of fiberboard. The more-expensive wood composite doors have higher-density fiberboard skin and include realistic details like overlays and grooves which resemble genuine wood.  They are good for insulation purposes because the door cores are filled with polystyrene insulation.
Other Popular Garage Doors
Steel garage doors are popular as they are sturdy, durable and you have the option of color coordinating the door with the siding, trim and/or bricks of your home. The finer-quality steel doors consist of two layers of galvanized steel.  The surface is generally primed with a tough topcoat finish and you may select their composition with or without insulation.  While steel doors have many pros, the biggest con is they dent easily and in coastal areas are prone to corrosion.
Aluminum garage doors are a real plus because, unlike their steel door counterparts, they will not rust, but the downside is they are lightweight, thus making them prone to denting. The aluminum doors are available in a variety of finishes and may already be painted.  There is an option to swap translucent glass panels for the aluminum panels which will permit daylight to enter the garage, thus obviating the need to use artificial light.
Fiberglass garage doors are constructed of fiberglass and their composition has both good and bad features: they do not rust and are less subject to denting or cracking, but could break upon impact.   They are constructed with two layers of fiberglass, bonded to a steel frame with steel end caps and they are filled with polyurethane insulation.
Vinyl garage doors are touted as all-purpose, durable and low-maintenance doors. They are difficult to dent or break, and, since they are made of vinyl, rust is not a problem.  They are constructed upon steel frames and filled with polyurethane insulation.  They are difficult to dent, so are ideal if you have kids, especially kids playing sports at and around the garage door area.  Maintenance is a breeze because you clean them by hosing them down.  While vinyl garage doors resemble the fiberglass variety, they are limited in color availability.
Now that you've perused this primer on garage door options, why not consider a consult with a specialist in garage door installation in Silver Springs, Maryland.