Hurricane season can be extremely challenging for boaters that live in areas that are prone to the effects of Mother Nature. The key to protecting your boat and home from hurricanes is to get well prepared in advance of any threatening weather.
Know Your Coverage
Understand your insurance policy and your marina contract. Make sure that you have the adequate boat insurance. Not all insurance policies are created equal, so it's important to know what your policy covers, including hurricanes and other natural disasters. It's also important to know that some insurance policies don't cover your boat lift and other equipment. Your policy may pay up to 50 percent of the cost of hauling or moving your boat prior to a hurricane. Some marinas require that you haul your boat in advance of a storm to protect your boat and the marina.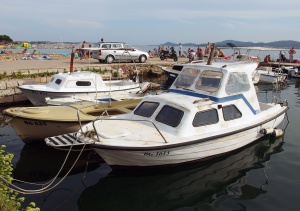 Preparing Your Boat
If you have enough warning and time before the hurricane hits, the best course of action you can take with your boat is to remove your boat lift and store it away from the potential storm surge in a safe place. If you cannot remove your boat, raise the dock lift as high as you can in an attempt to keep the boat above the storm surge, and don't forget to secure your boat to the lift. You should also remove plugs from your boat so water can drain out and not overload your lift. If you cannot remove your boat and your boat lift's cradle doesn't rise high enough to keep it above the potential storm surge, then it is advisable to raise your boat as high as the boat lift goes. Then you can secure your boat to the lift, and use long ropes to secure your boat to anchor points. Even if the storm surge lifts your boat of the boat lift, the long anchor ropes will help keep it near your property.
Get on Land
If you plan on hauling your boat, coordinate in advance with your marina. The best way to reduce damage to your boat is to bring it ashore and securely strap it down. Evidence shows that boats stored on land fare better on average in a hurricane compared to boats kept in the water. When you haul, locate jack stands along the hull in areas reinforced by a bulkhead to withstand the pushing force of the wind. You should also chain the jack stands together to keep them from spreading apart. If possible, you can use eye sets anchored in concrete and secure your boat with nylon straps. You should use nylon straps that have little to no give and won't stretch over time. Storing your boat shore will not only reduce wind damage but also eliminate most of the risk for water damage in the interior.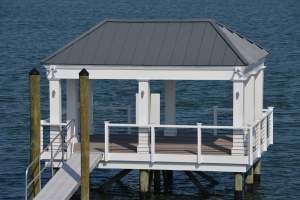 Anchor Properly and Set Multiple Anchors, if Necessary
Boats on moorings face special challenges. Most moorings can withstand storms and squalls, but hurricanes place an extraordinary load on the anchor and anchor rode. The best anchors are helix types, which screw into the seabed. They hold much better than mushroom or deadweight anchors. If your boat will be on a mooring, or anchor, this would be the best time to replace or upgrade your mooring pennant, making sure that it has chafe protection. If you must anchor out, select your location so there is little fetch as possible, to reduce the size of the waves. Two or even three anchor can be used.
Storing and Securing Boat Lift
Your boat lift and dock can be just as important as your watercraft. Remove any moving and electrical parts that you can from your stationary boat lift and store indoors. Floating boat lifts that don't have electrical or metal parts can be easily removed and stored indoors during a hurricane. If your boat has a low-profile installation, it is possible the tide surge could bring corrosive saltwater into your boat lift motors, switches, and covers. Remove these items from your lift and store in a safe, dry place. If you have a sealed direct-drive system you remove the gear unit as well. Before you do so, lower the cable down to its lowest point as the cable will free spool back down. You should also tighten all the nuts and bolts on the lift so you don't lose any small parts during a potential storm. If you are able to remove the boat from the boat lift, the best course of action during preparation is to lower the cradle on the lift all the way to the bottom. Leaving the cradle in the water prevents it from swaying the winds or being lashed harshly by waved in s storm surge, thus protecting the lift itself and the dock.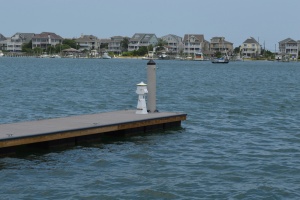 Replace Old Dock Lines
This is also the perfect time to get rid of your worn dock lines. Lines should nylon, either two or three strand and in many cases larger than what you normally use. Reduce the possibility of your dock lines breaking due to chafe by installing chafing gear. You can also switch to dock lines with a thimble spliced to the end, through which a short length of chain is run that is shackled to the dock cleat. To reduce stress on your dock lines, mooring compensators, or snubbers can also be used.
Marine Construction Services
Storms are inevitable, it's important to always be prepared for any storm coming your way. Wilmington, North Carolina is an area that is known to be susceptible to storms.  If you're in this area and suffer damage due to a storm, you should seek the services of a professional marine contractor. A professional marine contractor provides marine construction services that focus on: pile driving, bulkheads, floating docks repairs and construction piers, gazebos and boat lifts.