A home office is the quintessential means of getting the most out of your life. In today's busy world and with your hectic schedule, you simply can't keep it all together without one. Professional interior designers in New Jersey and throughout the country will tell you that modern home office design is about three things: creativity, functionality, and organization. If you bring these three elements into your home office, you're sure to have a modern workspace that boosts your creative juices, maximizes your productivity, and optimizes your time. Here are some tips about modern home office design from interior designers near you that will help you get the most out of the office you've chosen to add to your home.
The right space
The most important first step is to create an entirely separate space for your home office. You can't design a modern home office if you don't have a home office—duh! The most important reason to have a separate workspace is to separate the compartments of your life. Kids, spouse, TV, friends, neighbors—these can all easily turn into distractions that undoubtedly will keep you from your work. Many folks who've never worked at home don't understand that when you're working, you must be working, whether you work outside or inside your home. There's a certain amount of work you must get done before deadlines, and you simply cannot be interrupted.  Believe it or not, even a walk-in closet can become a wonderfully modern home office with the right type of design elements such as lighting and a little furniture. Naturally, if you have clients who'll be stopping by for appointments, you may also require a space that has its own separate entry.
The right lighting
Lighting is perhaps the most important element in modern home office design. For, without the proper lighting, you not only won't be able to see what you're working on, but you can develop headaches and problems with eyesight if your home office is poorly lit. If you can, let in as much natural sunlight as possible throughout the day. If you don't have proper windows, consider adding them in if you've got the budget for it. Skylights are ideal for home offices because they can send illumination just where you need it. If you don't have the windows or the budget to include them (or if you rent), you'll need to add in a good deal of artificial lighting. Track lighting and recessed lighting can be great options for home offices, particularly for folks who'll be working at computers or design tables. A great way to maximize lighting options on a minimum budget is to visit a local home improvement store or even a computer store that carries lighting options. Talk to a store representative who can offer suggestions about what types of lighting are best for your particular situation.
The right furniture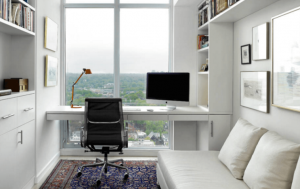 Choosing the right furniture for your home office is vital. You'll likely need a desk, a design table, an easel, or some other type of furniture to sit at while you do your work. Naturally, you'll also need a chair—but not just any chair. You need the right chair for the kind of work you'll be performing, and it must be ergonomically correct. Visit a store that specializes in ergonomic chairs and speak with a rep. Sit in as many chairs as you need to in order to find the one that's right for you. But be sure to ask about their return policy before you purchase. Sitting in a chair for a minute is a lot different from sitting in it and working day in and day out.
It used to be called a 'den.' If you look up that word in a dictionary, this is what you'll find: a cave or hollow dwelling used as a hideaway. But you don't want to hide away, do you? Of course not! Today, folks don't call it a 'den' anymore—it's a home office, and the idea of it is to bring everything in your life together into one organized, creatized, and functionized space that will help you maximize all the areas of your busy life. And the irony of that one room is that it's a separate space—yet it combines all the other cubicles, cubby holes, corners, categories, and compartments of your existence into one uber-useful living space. If you're searching for more creative ideas about how to design the ultimate modern home office, consult with a professional interior designer near you.